Grow with your audience
SOCIAL MEDIA MARKETING MANAGEMENT
We help your brand gain ever-increasing followers, fans & devotees & drive user engagement and sharing.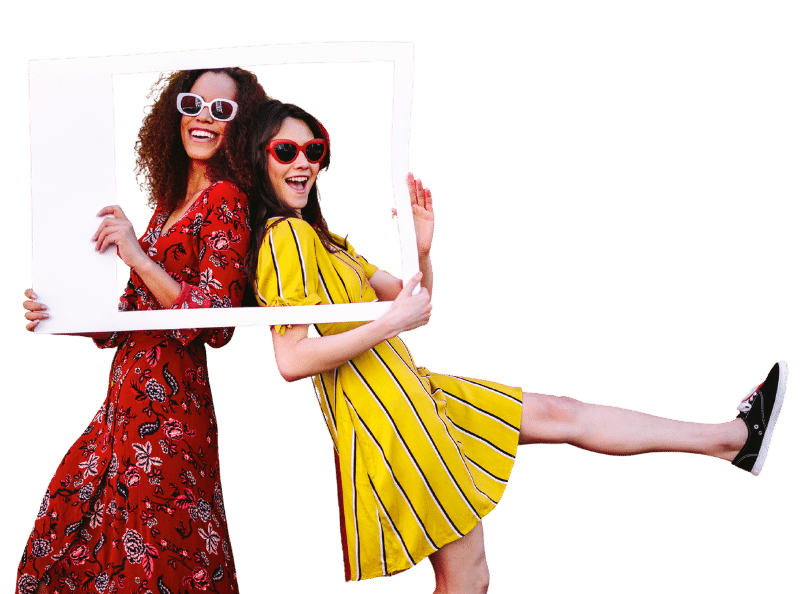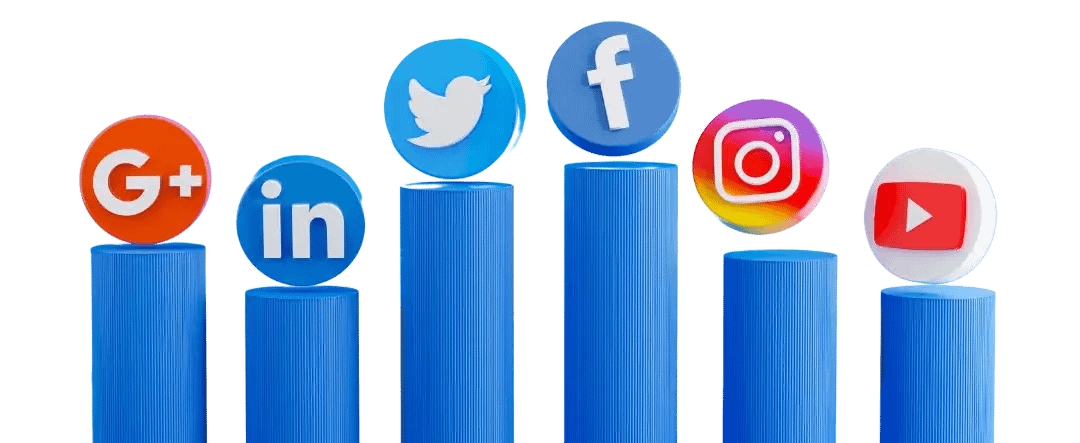 Increase your Brand Exposure & Generate Buzz.
Maximize the role of social media networks in driving brand awareness, customer loyalty, and sales with social media management services. With our social media agency in Delhi, India, your company will get a dedicated social media specialist, custom strategy, regular reports, and more! We build meaningful connections between diverse brands & it's users and encourage followers & community members to take action.
Designing social media strategies to achieve marketing targets.
Managing, creating and publishing original, high quality content on social platforms.
Administering all company social media accounts to ensure up-to-date content & much more…
"A brand is no longer what we tell the consumer it is— it's what the consumers tell each other it is."
Social media is the fastest-growing trend in the history of the world
Social media needs good management so that its growth and development leads to positive results & meaningful communications.
Things you should be aware of when you hire a social media specialist:
A social media specialist is more than just the person with the passwords to all your social media accounts. This person should have a solid understanding of how each social media channel works and how to optimize content so that it is engaging on all those channels. They're also responsible for joining relevant conversations on behalf of your brand and "soft selling" your product by providing support to current and prospective customers.
Social media doesn't function in a vacuum, and a great social media specialist will be able to build strong working relationships with the rest of your team. Their colleagues include content writers, graphic designers, and search marketers. The person you hire should have a strong understanding of how SEO, content (blogs, email, video, etc) and social media work together to create effective digital marketing campaigns. They will also be metrics-driven and committed to showing you quantitative results.
Social media gaffes can exist forever in screenshots, so you'll need to hire someone with good situational judgement. Questions like "How would you respond to an angry customer?" can be useful for this purpose. Use these interview questions to assess your candidate's experience with managing social media for brands (rather than for personal use), as well as the overall personality fit. Someone even-keeled with a touch of humor and an innate desire to help would be a strong fit for this role.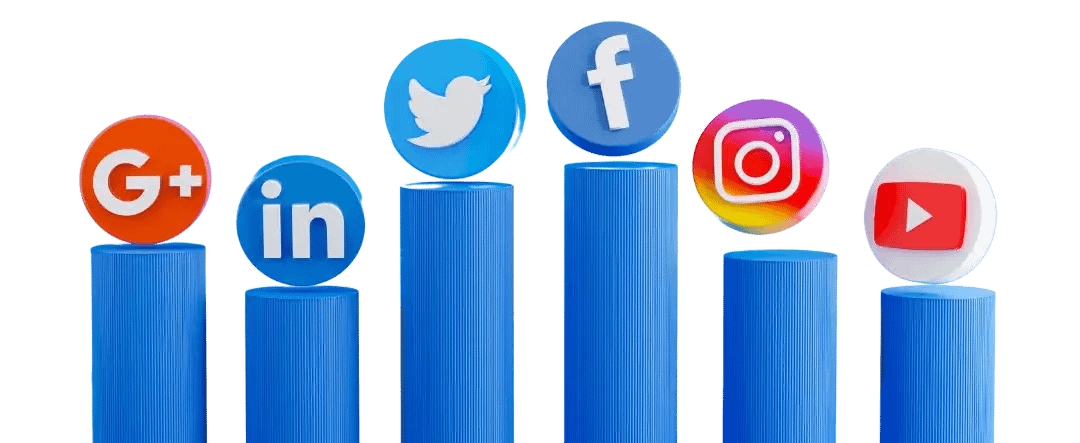 Is Social Media Marketing
Really Effective?
Social media is the fastest-growing trend in the history of the world
Is Social Media Advertising Effective? Yes, Social Media Ad is effective.
A recent study found that social media ads are very effective in helping internet users find new products.
Further, here's why Social Media Marketing can give you that critical cutting edge you need to generate more leads, increase traffic and boost conversions –
In January 2022, 4.55 billion people use social media globally; +9.9% increase in social media users from last year (400 million new social media users).
Over 60% ofthe worlds population(7.9 B) use social media (4.55 B)
On average, 28% of people who use the internet found new products after viewing social media ads.
People on social media are 27% more likely to make monthly charity donations, and close to half believe it's essential to give arms to the community.
49% of internet users say they are likely to purchase from brands they see advertised on social media.
72% of B2B marketers who use paid marketing channels online use social media as a marketing medium.
Instagram's advertising reach is up to 5.7%.
In 2020, the average Facebook user clicked at least 12 ads per month.
Facebook ads reach 1.95+ billion of the platform's total monthly users.
Social ad impressions increase by 20% every year.
According to a report, LinkedIn is the most paid and organic content marketing channel for B2B marketers.
80% of social media referral traffic to eCommerce websites came from Facebook in Q1 2019.
Twitter users spend 26% more time than users on other platforms in viewing ads.
Twitter Ad engagements increased by 29% in Q4 2019.
When reaching Gen Z, Snapchat ads are seven times more efficient than TV ads.
LinkedIn ads reach 12% of the world's population and 62% of Americans.
On average, LinkedIn Sponsored InMail ads have a 52% open rate.
and the list  goes on and on….
The first step is building a social media strategy through competitive and audience research & setting up and optimizing company pages within each social media platform. In general, your brand may have one or all nine of the major social media goals, but this can differ from brand to brand:
Increase brand awareness.
Drive traffic to your website.
Generate new leads.
Grow revenue (by increasing signups or sales).
Boost brand engagement.
Build a community around your business.
Provide social customer service.
Increase mentions in the press.
Listen to conversations about your.
Build and execute social media strategy through competitive research, platform determination, benchmarking, messaging and audience identification.
Generate, edit, publish and share daily content (original text, images, video or HTML) that builds meaningful connections and encourages community members to take action.
Set up and optimize company pages within each platform to increase the visibility of company's social content.
Moderate all user-generated content in line with the moderation policy for each community.
Create editorial calendars and syndication schedules.
Continuously improve by capturing and analyzing the appropriate social data/metrics, insights and best practices, and then acting on the information.
Collaborate directly with our client or members of their team or departments (customer relations, sales etc) to manage reputation, identify key players and coordinate actions & much more…
Soulfly Digital uses a visual social media calendar for planning and auto-publishing your social media content. Our tools allows you to collaborate with your team and plan social media activity & get daily reports throughout the year.
From 'A' Brand to 'THE' Brand
The challenge and opportunity of social media – it's a commitment and not only a campaign.
With the innumerable challenges and opinions that flood our timelines on a daily basis, it can arguably be said that everyday is Social Media Day. A lot changes in social media, and fast. Algorithms update, users switch platforms, and new features emerge, making it tough to reach people and build a loyal following.
But it's a social world, and businesses must keep pace. And when branding, content, and strategic distribution across the right channels work together, social becomes an engine for incredible growth.
Soulfly Digital is more than a social media agency. Drawing on our team of talented content creators, digital marketing experts, strategists, copywriters, graphic designers, and paid media specialists, Soulfly delivers the expertise to create engaging and click-worthy social media experiences
To fully satisfy your needs, Soulfly Digital will assign a dedicated Account Manager to your social media project. The account manager will be your main point-of-contact during bi-weekly calls and daily correspondence. Any requests or edits on behalf of the client will be sent to the Account Manager, and they will handle communication with the graphic designers and social media team. Soulfly Digital takes pride in being proactive with every project, so you can expect to hear new ideas from the Account Manager on a weekly basis.
Your brand identity should be stamped on all you do. Branding is one of the most important ingredients for the success of any business. It tells customers who you are and distinguishes you from your competitors. We strategically pour your identity into the social media creative in a way that produces concepts that will resonate with your target audience and make you stand out among even the largest crowd.
The next step is when we analyze the current social media landscape for your business. This includes, but is not limited to, competition analysis, trend discovery, hashtag research, reputation analysis, and website traffic metrics. Designer Buny also develops a comprehensive persona report for your targeted audience. This helps us determine who your ideal brand audience is, and how we can best engage with them through visual content and copywriting. If your business is already established on social media, we will analyze your history of posting to determine what strategies have worked well in the past.
Creative Content Development
At Soulfly Digital we have a team of content writers, graphic designers & search marketers who generate, edit, publish and share daily content (original text, images, illustrations, video or HTML) that builds meaningful connections and encourages community members to take action.
Soulfly Digital is happy to accommodate your brand's unique needs. If you need video, animation, or more posts per day, we also create custom social media packages to suit your creative needs.
Social Media Management works best when our agency is able to collaborate with your team on content creation. We value your feedback and our mission is to powerful content which is also in line with your brand vision. Nobody knows your business better than you do. This is why we provide our Social Media clients with a monthly posting calendar. This allows you to see our creative designs, our captions, and hashtags before the content is published. During the review phase, you will be able to suggest edits to help us refine the posts. Soulfly Digital understands that sometimes you will need content posted on Social Media that is not able to be scheduled. This is why we leave certain gaps in the posting calendar so that we are able to post new content with a fast turnaround.
Advertising On Social Media
The biggest benefit of advertising on Social Media Platforms is the advantage of dynamic targeting. Our targeting strategy ensures that ads will only be delivered to users who are most likely to engage with your post and become a customer. Targeting can help you find your "sweet spot" by segmenting your audience by demographics, psychographics, geographics, etc… Technical segmenting can also be achieved by targeting mobile / desktop devices, or iOS/Andriod devices. Ads can also influence if your posts become viral due to the "snowball" effect. The snowball effect is a phenomenon in the world of social media that maximizes content exposure. Basically, the concept follows the logic that when one user engages with a post, all of their networks will see this engagement on their feeds. Then some of their friends will engage with the post, and so on… This is referred to as the snowball effect. Often times, we have seen ads ignite engagement which leads to a post going viral.
Measure Growth Stats & Report Everything
Bosses and clients don't always know what you do all day.
Sure, they kinda get it. They know you're PPCing. They know you sprinkle magic SEO pixie dust on a page before it goes live.
But beyond that?
In that sense, reporting should be like selling. For e.g.:
Report on web traffic from all social media accounts across all platforms.
Set specific objectives and report on ROI.
Going beyond reporting on metrics to identify how to improve your social media strategy & much more..
GET STARTED ON YOUR SOCIAL MEDIA CAMPAIGN TODAY
Contact us today to request a free quote.